A Church is Born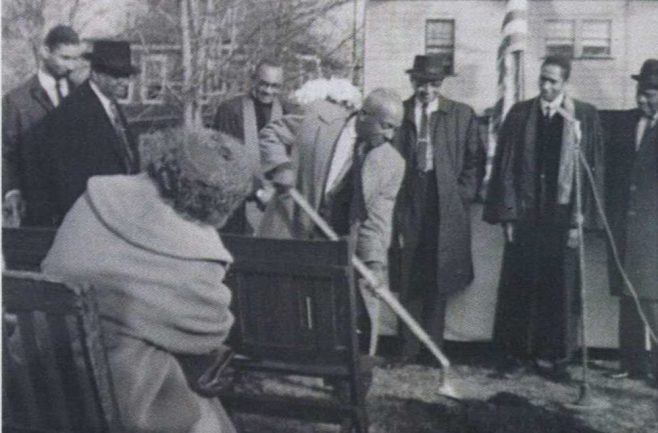 The history of First Seventh-day Adventist Church of Montclair is an exhilarating experience of events that bear witness to God's leading power.
Many years ago an Adventist Minister, Pastor Marion Campbell, was on his way to visit one of his members. As he got out of his car he saw a gentleman passing by. Greeting the stranger, he introduced himself, handed the man a piece of literature, and told him he hoped to see him again. That gentleman was Mansfield Wilson.
Mr. Wilson took the literature and continued on his way. Some folks say that this experience was a coincidence, but we believe that it was the Spirit of the Lord leading.  One week later upon Pastor Campbell's retum visit with his member, he met Mr. Mansfield Wilson again. Pastor Campbell inquired as to whether Mr. Wilson had read the literature and enjoyed it. Mr. Wilson replied, "l liked it
very much."  Pastor Campbell asked whether he would be interested in Bible studies to which Mr. Wilson replied, "Yes."   Unbeknownst to Pastor Campbell, a seed had been sown for the birth of a new church.  Bible studies were held at the home of Mansfield and Katie Wilson in North Caldwell, New Jersey. They were accompanied by their two daughters; Betty Wilson Neal and Caroline Wilson Wyatt and two nieces; Alice and Lola Jackson. 
The following week two additional souls were added to the group meeting, Thomas and Minnie Lankford.  The word of God was lifted up and men were being drawn to Christ.  "And I, if I be lifted up from the earth, I will draw all men unto me", John 12:32.
As time progressed another family joined the group for Bible studies, Solomon and Shirley Mills and their six children; Anna Mills-Dade, Rosalie Mills, Mozelle Mills-Lockette, Margie Mills-Ledder, Nathaniel Mills and Willard Mills. This expanding group of Christians would sometimes worship at the Newark Church on Bergen Street.
On April 19, 1929, sixteen precious souls were baptized into the fellowship of God; the Wilson's (six), the Langford's (two), and the Mill's (eight). This dedicated and determined group formed the nucleus for the First Seventh-day
Adventist Church in Montclair. The number of souls continued to grow as did the need for a formal meeting place. On December 6, 1930,  this group was organized by the Allegheny Conference of Seventh-day Adventists as a church
under the leadership of Pastor Marion Campbell.
The first official meeting place for this newly formed congregation was 11 Mission Street near Bloomfield Avenue. Today, the building still stands and is currently a house of worship for another church.   Approximately in 1932, the members rented a storefront and services were held at 80 Maple Avenue, Montclair, New Jersey under the leadership of Elder John Wagner, Sr.
The membership of this flock increased rapidly. Some of the new members were, Elizabeth Battle, Juanita Carter, John Farrow and James Hale.  Sister Elizabeth Battle was baptized in 1937 and was a faithful and dedicated worker. For many years she served in Community Service (formally known as the Dorcas Society).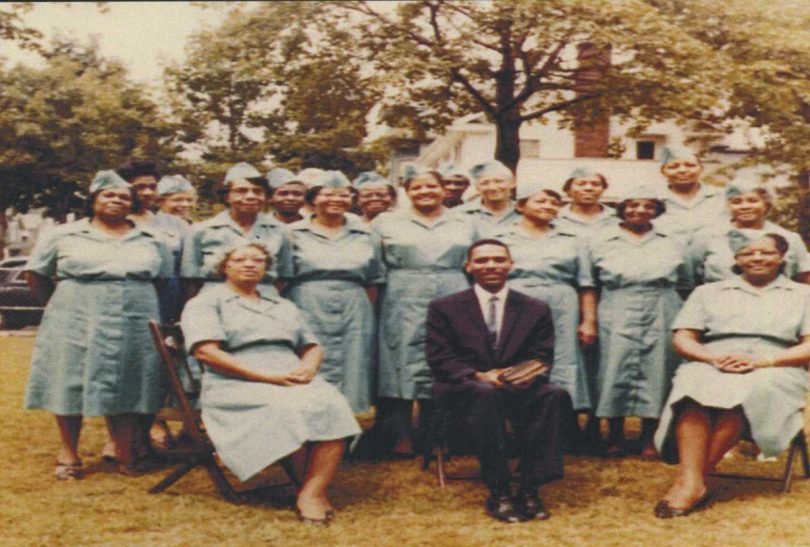 In 1932, a tent effort was held by Elder Harvey Kibble Sr.  at 23 Elmwood Avenue, Montclair, New Jersey where the St. Peter Claver church now stands.  Three souls joined the church as a result of the tent effort, Louisa Penneywell, Mary Harvey,
and Mayberry Williams.  Louisa Penneywell was instrumental in purchasing the property on the comer of 90 Mission Street and Elmwood Avenue.  At that time, the property housed a small two-car garage.  Sister Penneywell had a vision of building a large church in the near future that would accommodate worshippers in the Montclair area.
During the years of 1942-1959 the First Seventh-day Adventist Church of Montclair continued to be blessed with committed leadership.  The pastors in service were as follows:
Pastors E. l. Watson, Stanley Huddleson, Wilmont Fordham, Jethro Lester, Louis Preston Sr., Cleveland B. Tivy and Edward Dorsey.

When Pastor Daniel L. Davis accepted the call as pastor to First Church in 1962 the members were currently worshipping in a building on Wheeler Street in Montclair, New Jersey.  The decision to build a church was reached under the leadership of Pastor Daniel Davis and the plans for transformation of the two car garage were underway. With Joseph Britt (the First Elder at that time) donating the first five dollars a building fund campaign was initiated. The building fund continued to grow. Before he was able reach his goal of seeing a church built in Montclair, Pastor Davis was called to the Ohio Conference to serve as a Departmental Director.
The baton for completing the construction of the church was passed on to Elder Charles Cheatham who served at the helm from 1963-1968.  As a result of an intensified building campaign and with the collective efforts of the members a
ground breaking ceremony was held on April 5, 1964. Initially, the architects plans included the installation of a flat roof.  The church family felt that such a design would not provide the kind of ambiance that they envisioned. A business meefing was called and the members voted along with Elder Charles Cheatham to choose a gabled roof. This is the style of the roof on the church today.
Among the outstanding leaders who served in the church during those crucial years when it was establishing its roots were Mother Caroline Wyatt, Joseph Britt & family. Pastors Daniel Davis and Charles Cheatham were blessed by the service of these stalwart members. Sister Caroline Wyatt was the treasurer who worked with Elder Cheatham when the gabled roof was installed and Joseph Britt served the church as Elder and continued to do so with the pastors that
followed.
With the two-car garage remodeled into the structure that we worship in and praise God for today, the vision of that faithful Bible study group became a reality known as the First Seventh-day Adventist Church of Montclair. The doors were opened for the first worship service on March 27, 1965. The speaker for the grand opening was Pastor W. A. Thompson. With no traces of its humble beginnings, this present day edifice consists of a sanctuary that includes a balcony, pulpit, choir stand, and baptismal pool, a foyer with a balcony entrance, a mothers room, a coat room, offices and a finished basement.
The succession of pastors during 1970 through 1978 included:
Pastors Alfred Winston, Alvin M. Kibble, Milton Thomas Sr., James Clements Jr., Paul Monk Jr., and Oliver Cheatham.
From 1979-1981, Pastor Reginald O. Robinson (wife, Patricia and family) served as the pastor.  It was under his pastoral leadership that the church paid its final mortgage obligation.
During 1981-1984, the members of First Church were blessed to have Pastor Augustus F. O'Giste (wife, Shirley and family) as their pastor. His three years of ministry greatly impacted the growth and spirituality of the church.  Again, the
Spirit was leading the pastoral joumey of Pastor Lloyd Major, who served for a brief time, during which the mortgage buming ceremony took place on September 22, 1984.
God's blessings continued to be bestowed on the congregation in the form of Pastor Mark McCleary's, (wife, Queenie and family) ministry.  Along with the dedicated service of his wife, Pastor McCleary made a great contribution to the
church and community of Montclair. In 1986 the church widened its outreach to the community by operating a soup kitchen on Sundays. The Soup Kitchen provided hot meals that were served at the church as well as the distribution of food and clothing to anyone in need. That program continues to operate today. Under the administration of Pastor McCleary the following were implemented: a financial stewardship campaign that proved successful and resulted in a debt free church; two successive evangelistic tent meetings; numerous ingathering campaigns; the first church van was purchased; also an organ, a piano, and sound system. The membership grew from 129 to 219. Pastor McCleary also made the initial inquiry regarding the property located next to the church building. First Church would later acquire that property. After eight years (in 1993) the Lord directed the pastors joumey to another vineyard.
From 1993-1998, Pastor Bruce Flynn (wife, Pauline) blessed the congregation with their ministry. In 1995, under the leadership of Pastor Bruce Flynn a two family house located at 86 Mission Street was purchased next door to the church building with plans to extend the current facility. This property is referred to by the members as the Annex. The Annex has a reception room with a baby grand piano, donated by the organist, Dorothy Jackson. At that time this room was used for fellowship dinning. Other rooms were used as a kitchen, board room, Sabbath school classrooms and departmental meeting rooms. Dolorez Roulhac, daughter of Frances Moore, was instrumental in the fumishings and décor of the Annex.
Our first Homecoming Celebration was held May 24-26, 1996. Pastor Reginald O. Robinson was the Divine Worship speaker. This celebration took place during the pastoral ministry of Pastor Bruce Flynn. The theme of the Homecoming Celebration was "Yesterday, Today, & Tomorrow."  Pastor Flynn stated, with confidence that "this celebration was conceived not by human powers, but by Divine intenvention and inspiration, therefore with encouragement we must move forward in faith and with confidence towards achieving our goal."
Pastor Bruce Banner (wife, Lillian and family) served as pastor during 1998-2000. Under his leadership the church purchased a new van.
In September 2000 - July 2004, First Church was once again blessed with the ministry of Dr. Marcus E. Harris (wife, Arlene and family). It was during his ministry that we celebrated our second Homecoming Celebration, which was
held July 27-28, 2001. Pastor Alvin M. Kibble was the Divine Worship speaker. The celebration theme was "Our Joumey...Past to Present."   Pastor Harris reminded us, "Our experience together is indeed a joumey. One that has intersecting relationships that unites the past, with the present and future. Upon faith, heritage and work of our church ancestors, we presently stand. The paths we forge today will set the stage for our future generations." He instituted the first Pastors Preaching Class culminating with a grand graduation ceremony.
ln August 2004, Dr. D. Robert Kennedy (wife, June) began his ministry at First Church of Montclair. Pastor Kennedy joined us with much enthusiasm. He continues to lead us by his strong emphasis on prayer, teaching and discipleship
training. He has a passion for church growth. The members have responded to his leadership initiatives with hard work. They continue to make sacrifices and are steadfast in their support of church improvements and renovations.  With his guidance a new porch dormer and roof were erected. Interior improvements have also been made which includes new carpet in the sanctuary, improvements in the mothers' room and health station, and the installation of a new pastors office in the balcony. A new floor was installed in the lobby and basement, and the kitchen has been completely renovated. The interior of the Annex was also remodeled. New carpet was installed and rooms were expanded in order to provide adequate space for the children's Sabbath School classrooms. The interior and extenior improvements have given the church a much needed "face-lift."  It improved the levels of effectiveness and comfort, thereby increasing worship appeal. Future plans under consideration include a parking lot.
ln April 2005, Pastor Moses Eli was assigned to our church as Associate Pastor. His first sermon was preached on May 7, 2005.  He is a 2005 graduate of Andrews University. The church looks forward to the additional blessings that
are sure to come as a result of Pastor Eli being used by God.  In June 2006, he served as the sole pastor of the First Seventh-day Adventist Church of Montclair until September 2008. During his tenure at Montclair, he led the church through various renovation projects including: installing a previously purchased mounted church sign, purchasing and installing an illuminated church sign and installing a central air-conditioning system for the church. He also has led his church to be actively involved in community outreach projects. They sponsored an annual community health fair, a host church for Inter-faith Hospitality Network, a non-profit organization in which homeless families are housed and cared for while they are assisted in becoming self-sufficient. Also, they sponsored a motorcycle club and initiated the first annual bike blessing in which motorcyclists were able to hear the gospel presentation. He has great enthusiasm for Drama Ministry. He has written, directed and stared in many plays on university campuses, campmeetings and churches. Pastor Eli became an active member of two inter-faith organizations: The Montclair Clergy Association and The Montclair African-American Clergy Association. As a result of his dedication, commitment, and leadership he was elected as the Vice-President of the Montclair African-American Clergy Association.
On October 25, 2008 the First Seventh-day Adventist Church of Montclair welcomed their first female pastor. Pastor Paula Olivier's installation was officiated by President Charles Cheatham who was assisted by Dr. Ella Simmons, the first female Vice President of the General Conference of Seventh-day Adventist.  Pastor Olivier's passion for outreach was a mark of her ministry at Montclair. She forged relationships with several civic bodies in order to broaden the influence of the church in the North Jersey area. She was a member of the Montclair Community Intervention Alliance. She also was a member of the CARES Committee which is a committee of all the human services organizations in the city of Montclair (that includes the American Red Cross, the Salvation Amy, the United Way, and many more non-profit organizations). Pastor Olivier also represented the church at the Human Services Council of Essex County. She was also the founder  of the popular Life Skills Academy for teens and helped to secure over $30K in grants for the administration of the Academy.   Under her leadership, First Church reached their initial capital campaign goal ($.6M)  and celebrated their 80 Anniversary at MSU (Montclair State University-Sept. 3-4,2010) with keynote speaker Dr. Barry Black with the theme "A New Vision...Our Journey Continues."  In Jan 2017, the Lord directed her journey to another vineyard.  Dr. Olivier was installed as Senior Pastor of the Ebenezer SDA Church in Freeport, NY.  She is happily married to Dr. Smith Olivier, an ordained minister of the Northeastern Conference of Seventh-day Adventist.
God's blessings continued to be bestowed on the congregation of the First Seventh-day Adventist Church of Montclair.  The church was without a pastor for what seemed like almost a year.   But we waited, and claimed God's promises and our prayers were answered!  On August 26, 2017, Pastor Dewaine Frazer was installed as the Senior Pastor of First Church, along with his lovely wife Krysten as First Lady.  Pastor Frazer, who is an ordained minister,  is a dynamic preacher with an endless passion for evangelism.  Prior to joining the First Seventh-day Adventist Church of Montclair, Frazer served as the associate pastor of the Dupont Park Seventh-day Adventist Church in Washington, DC.  He brings an energy and a committed devotion to calling all to surrender to the love of Christ.  Pastor Frazer  is a lover of people and his desire is to see the church continue to embrace the community and to be a living testimony of the grace of God.  It is his hearts desire to continue to lift up the name of Jesus Christ.
Pastor Frazer is blessed to have "the love of his life", Krysten, by his side. She compliments him and brings with her an annointed ministry with her vocal talents, that she has dedicated to the Lord. May God bless their ministry and marriage.
We deeply and respectfully thank all the members past and present who have made such substantial contributions to the development of First Church. We, the members love our church family and are grateful for the tenacious vision and hard work of our founding members. We honor the memory of our forefathers for their steadfast faithfulness. We thank them for our rich heritage. We continue to build upon the good of our past, rejoicing, honoring and thanking those on whose shoulders we gratefully stand. We humbly give honor and glory to the Most High God from whom all of our blessings flow. Our faith is in no less than the God who has been our help in ages past and our hope for years to come.
As we look to the future, it is our prayer that God will continue to bless our church family. May He keep us as we strive to cariy out His ministry in spreading the good news of the gospel in the Montclair, Glen Ridge and Bloomfield communities.
Historical Resources:
Caroline Wyatt, Anna Mills-Dade, Elder Daniel Davis, Elder Charles Cheatham, Elaine P. McDowell, Theresa McDowell, Allegheny East Conference.